Is a Battery Replacement Necessary?
Schedule Professional Battery Service at Bronco Motors Nissan
Professionals to Diagnose Your Battery
Reliable Vehicle Services You Can Count On
Dealing with a dying battery can be more than inconvenient. It can be a safety hazard. To ensure you remain safe on Nampa roads and beyond, your vehicle will need servicing to provide reliable performance. To keep your automobile in peak condition, you will need battery services before there are signs of trouble. You should seek assistance soon if you notice clicking noises when starting your vehicle, interior lights dimming, or a highlighted battery warning light.
Our team near Caldwell can repair your model whether you drive a Nissan Rogue, Nissan Sentra, Nissan Altima, Nissan Titan, or any other Nissan model. If you are experiencing symptoms of a faulty battery or feel unsure about the status of your battery, stop by Bronco Motors Nissan. Our knowledgeable technicians can complete an electronic battery test to determine if you need a battery replacement or if issues are coming from another part.
When Should I Replace My Battery?
Typically, your battery should last about three to four years on average. Here are some signs when your car might need a battery:
The car won't start
Vehicle requires jump starts often
Check engine light comes on
Funny, unidentifiable smell inside your car
Why Get Battery Service at Bronco Motors Nissan?
Battery service at our Nissan service department near Eagle presents you with high-quality service for your vehicle. We have a skilled team that is experts in the parts and capabilities of your vehicle and genuine Nissan batteries. We are proud to provide certified service and exceptional customer service.
If your automobile requires a new battery, we will always outfit it with a genuine Nissan part. These components are designed especially for your car to continue its safe and smooth operations around Meridian. We can also install your battery which allows you to rest assured the service is completed correctly.
Schedule Battery Service Today
We regularly offer battery replacement and installation offers to make our services competitive for your budget. Please shop the current deals to get certified Nissan service at a great value. Make an appointment online or over the phone today. We look forward to seeing you soon.
Schedule Service Today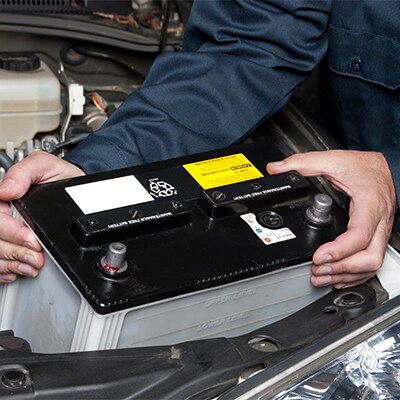 Multi-Faceted Battery Maintenance