Is a Battery Replacement Necessary?
Schedule Professional Battery Service at Bronco Motors Nissan
Professionals to Diagnose Your Battery
Reliable Vehicle Services You Can Count On
Have the lights started flickering in your vehicle? Are you having issues starting your car? This can indicate a problem with your car's battery. Thankfully, you don't have to worry when the Bronco Motors Nissan service takes a look under the hood! Our Nissan technicians provide top-notch service and diagnostic solutions to get you back on the road quickly, whether it's an issue with the timing belt or you need a battery replacement. Let us help you today!
Why Do You Need Battery Replacements?
Over time, your car's battery will wear down. Signs such as sluggish performance, intermittent or inactive performance from your electronics, or an inability to start your vehicle can indicate battery failure or an issue with the components breaking down. At Bronco Motors Nissan, our service team can assess problems with your vehicle's battery and recommend a level of action to get you back on the road.
Our Nissan service team delivers high-quality service, thanks to training and certification delivered by the manufacturer. At our service center, we offer world-class automotive care with multiple service bays and diagnostic and repair equipment. If we need to replace your battery, we only use genuine OEM parts to ensure a perfect fit to keep you on the road for years. Your vehicle deserves the best possible care - you'll find it here at Bronco Motors Nissan!
When Should You Get Your Battery Serviced?
Typically, our service team recommends that you get your car battery replaced every four to five years. However, your driving experience and outside temperatures can adversely affect your vehicle's battery, requiring replacement sooner.
Are you looking to schedule your next service appointment sooner rather than later? Reach out to the Bronco Motors Nissan service team today! We'll get you in for an appointment and back on the road as soon as possible!
Schedule Service Today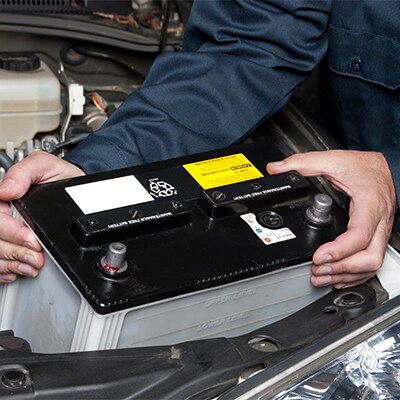 Multi-Faceted Battery Maintenance