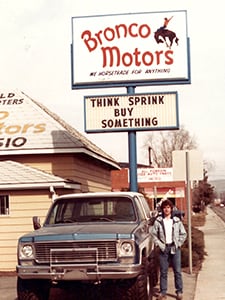 I am humbled to be nominated Best Car Dealer in one of Boise's greatest traditions, Best of Boise. We couldn't have achieved this recognition without people like you.
After my father completed his US Air Force duty, Grant Petersen, Sr. was looking for a new career. After working with both large and small dealer groups, he was hooked. My father decided to move our family back to Boise in 1969 where he established his first car dealership named Grant's Car Stop. Realizing the growth of Boise and Boise State University, he renamed the dealership to Bronco Motors in 1971. The name and its legacy have endured ever since.
I joined my father's business in 1977 with 5 other employees. Starting as a lot attendant, we grew and succeeded, expanding to now 150 employees, 6 locations (downtown Boise-1, Fairview Auto Row-1 and Idaho Center Auto Mall-4), 6 brands (Hyundai, Nissan, Nissan Commercial, Mitsubishi, INFINITI and Bronco pe-owned) 5 service and parts locations and recognized as one of Idaho's largest privately-held businesses.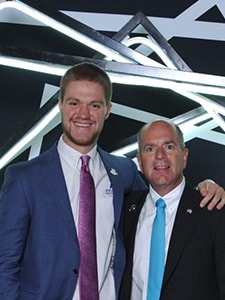 Today, my only son Brayden and only living sibling Christine are employed here full-time along with my daughter Trinity during the summer when she is home from college. I am privileged to uphold the legacy my parents started and being downtown Boise's only remaining new and pre-owned car dealer. We continue to raise the bar and be a benchmark for other business in giving back to a community that has so generously given to us. Some local organizations we support are Boise Holiday Parade, Idaho Shakespeare Festival, Idaho Humane Society, Women's and Children's Alliance, Boise Rescue Mission and Idaho Food Bank. We are also proud of our recognition by the community, receiving Idaho's Top 100 Private Companies Award, Best Place to Buy and Service a Car and BBB Torch Award.
The hallmarks that my mother and father started Bronco Motors with still remain with us today: Quality, Value, Integrity & Trust. Thank you, Treasure Valley, for your confidence and support since 1971!!
Voting for Best Car Dealer ends April 30.
Sincerely,
Grant L. Petersen, Jr.
Bronco Motors President & CEO